What is a Revenue Management System or RMS?
Revenue Management Systems analyse internal data, market supply and customer demand to calculate the ideal rates for your rooms. This allows you to optimize pricing across your distribution channels from one centralized dashboard.
Their use has grown rapidly in recent years. However, we still see 80-90% of hotels yet to adopt any form of RMS. With that in mind, implementing Revenue Management Systems now will put you ahead of the field and give your hotel a substantial competitive advantage. 
However, with so many software options available, it can be challenging to know where to start. It's also critical to read verified peer reviews on Hotel Tech Report, when researching and vetting the best revenue management system for your property.  In this article, we explore the benefits, functions and choices available to your hotel. By the end, we hope you'll be ready to start implementing RMS in your property. But if you would like a personal recommendation or introduction, please contact us for a free consultation.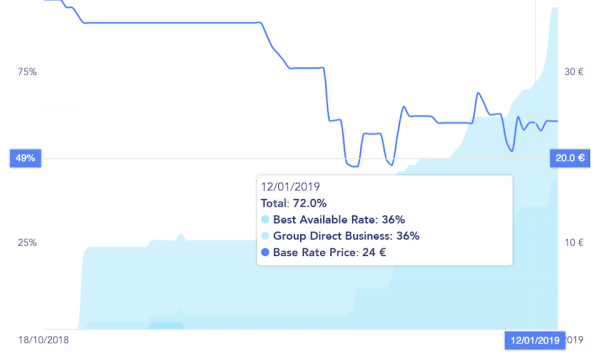 How can Revenue Management Systems benefit your hotel?
RMS platforms can analyse vast amounts of data at speed. The software uses algorithms, working 24/7, 365 days a year. These power complex calculations that humans cannot replicate as quickly and accurately. 
The calculations determine your ideal rates by room type and day. Furthermore, the Revenue Management Software allows you to instantly adjust prices across all of your distribution channels from a single platform. As a result, you can drastically improve your RevPAR and GOPPAR.
However, Revenue Management Systems are not intended to replace people. Far from it. Their biggest advantage is that they allow Revenue Managers to focus on things that they do far better than machines; being creative, thinking flexibly and taking strategic decisions. An RMS is only as good as the Revenue Manager using it. The system needs to absorb what the Revenue Manager knows and allow manual overrides. 
With powerful RMS software, Revenue Managers can move beyond spreadsheets and manual pricing. They can get out into the field, working more closely with marketing, sales, and the front office. Most importantly, they can focus on developing long-term strategies to drive total revenue. 
Revenue Management Systems benefit other departments, too. GMs will have solutions that guide them through critical tasks while automatically producing decisions. VPs of revenue, marketing and sales can build a sustainable revenue culture at every level of the organisation. 
The hotels that will be successful in the future will be the ones who take full advantage of this technology now. They will leverage Revenue Management Systems to establish long-term, hotel-wide strategies rather than working day-to-day with reactive tactics. 
Key features to look for when choosing your RMS
Revenue management systems are sophisticated software applications, with a wide range of different functions. The exact requirements will depend on your property, inventory and staff. However, there are some essential functions which must be included.  
Forecasting Management
The first step in effective revenue management is to predict supply and demand. Any RMS software must offer complete and accurate forecasting functionality. These forecasts should be based on multiple sources of data. They should also be flexible so that you can update them in real-time.  
Pricing System
The core function of your Revenue Management System is a pricing system. This feature uses all available data to optimize your room rates, calculated for different room types and days. They should also be split out for individual bookings, corporate bookings and group bookings. Some systems go further and allow you to change pricing based on each channel. 
Channel Management
You must be able to implement the pricing optimizations across all distribution channels from one platform. A high-quality RMS system will integrate channel management functionality. This allows you to manage pricing and inventory across your hotel website, OTAs and hotel booking platforms quickly and efficiently. 
Reporting
Data is the heart of everything Revenue Management Systems do. However, it isn't useful if you can't access, understand and act upon it. Your RMS software should provide clear performance reports and charts for all channels and activities. These should include relevant KPIs and insights, personalized and easily exported for different business teams to absorb
What Are The Best Revenue Management Systems for your hotel? 
Revenue Management Systems benefit hotels of all sizes. Smaller hotels have fewer rooms and must maximize the revenue each room generates. For larger hotels, the workload of manual revenue management becomes problematic, resulting in missed opportunities and more frequent errors.
As such, there is no 'one-size-fits-all' RMS. However, we work very closely with a select group of revenue management software providers who we consider to be the best in the business. These companies provide unparalleled service and support to clients of all types and sizes. 
Atomize
Atomize is a rising star within the field of Revenue Management Software. Headquartered in Sweden, Atomize helps hotels around the globe to maximize their revenue by automatically setting the optimal price per room type. 
Atomize is used in more than 40 countries, across five continents, by hotel properties ranging from 30 to 1250 rooms. After only one and a half years in the market, Atomize was rated the number one Revenue Management Software for hotels, based on customer reviews from 80 hoteliers on hoteltechreport.com
Duetto
Duetto's GameChanger is a revenue strategy powerhouse that lets your team develop and implement unique strategies quickly and easily. You can optimise every booking by independently yielding all segments, channels and room types in real-time, with improved insights into demand. With the flagship application for hospitality's only Revenue Strategy Platform, you can move beyond BAR pricing and stay ahead of the growing complexity in hotel distribution and technology.
IDeaS
IDeaS, a SAS company, is the world's leading provider of revenue management software and services. With over 30 years of expertise, IDeaS delivers revenue science to more than 13,000 clients in 140 countries. Combining industry knowledge with innovative, data-analytics technology, IDeaS creates sophisticated yet simple ways to empower revenue leaders with precise, automated decisions. From leading hotel chains to independent properties, clients trust IDeaS to deliver profitable pricing decisions every day.
Pace
Pace provides industry-leading pricing to properties of all sizes around the world with hourly, automated optimisation. Their RMS uses state-of-the-art machine learning to evaluate your demand in real-time, and respond with optimal prices for every category, over the next 365 days. The platform enables your team to visualise data that is relevant to your strategic goals. You can set up any visualisations, over any data, share them with stakeholders, and receive updates in real-time. Pace helps you to focus on constant evaluation and discover strategic opportunities. 
Conclusion: How To Choose Your Revenue Management System
Every hotel has specific requirements when it comes to RMS software. The key to success is ensuring a simple and effective tool which empowers rather than frustrates your team. It must include a user-friendly interface so that everyone in the hotel can make use of it. 
The features required are dependent on your business, background and your objectives. Likewise, your team will have different levels of expertise with Revenue Management Software The final point to bear in mind is that no RMS is good for your hotel if you do not generate positive ROI from using it. As such, we would strongly recommend discussing your options with a revenue management consultant. 
We can provide you with an impartial opinion, tailored to your exact needs. If you would like a personal recommendation or introduction to one of the RMS providers mentioned, please contact us for a free consultation today.