Importance of Room Services
Even before the Covid-19 crisis, the hospitality industry was already undergoing numerous innovations to answer customers' new travel expectations. But it is a no-brainer that the pandemic unleashed the need for quick changes and for hoteliers to find new ways to optimize the hotel's space. While restaurants and common hotel areas such as bars and lobby were facing restrictions, hoteliers decided to focus on the hotel's space which still could generate revenue and for which today's innovations are likely to reinvent customer's experience in the long term. We are of course speaking about the guest rooms. As a result, we have seen the biggest hotel groups raising the challenge, such as Accor who launched the 'hotel office' concept, allowing people to book rooms as day offices. The question is therefore how to optimize in-room services as guest satisfaction and revenue stream elevator?
What is Room Service in a Hotel?
Room service has been a synonym for luxury for many centuries, but it is during the 1930s that the New York City's Waldorf Astoria hotel shown to the world how mastering in-room dining services could become a real competitive tool. Today in-room dining is practised by many hotels but is not always at the guest's level of expectations. As a result, in-room dining lost its attractiveness for both customers and hoteliers, while remaining at the same time a must-have service for hotels.
There are two types of room service operations:
Centralized room service: the hotel is processing all the orders in its main kitchen and has one and unique team.
Decentralized room service: most used by large hotels that have a separate unit that specially treats and proceeds room-service orders. Some hotels may also have a pantry per floor.
While in-room dining can be convenient for anyone, it has its target audience. Among the travellers, business and international guests are more likely to use in-room services, as well as families with small children. However, the Covid-19 pandemic is expected to stimulate more demand for in-room services as travellers are looking for a person's space and a contactless experience.
Similarly, a study realized by Suitepad revealed that the top 5 foods and drinks equal 55% of all room service orders and guests at MICE hotels were more likely to order burgers and cola drinks than any other, while guests at city hotels were twice as likely to order a beer to their room than guests at design and lifestyle hotel (Suitepad, 2018). Once more, we can see how knowing your targeted audience is important when implementing a new in-room dining sales strategy.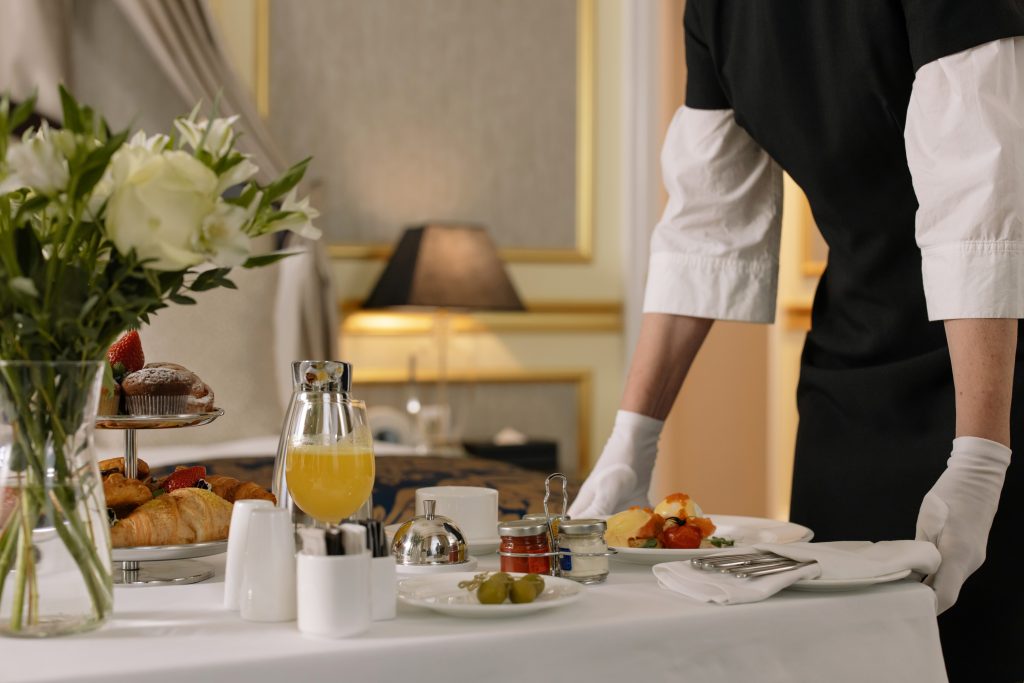 Pros and Cons of Room Service
Room service can play an important role in guest's experience and satisfaction. However, in-room dining offers are not always considered and perceived as a luxurious service. Here are the pros and cons of running an in-room service in your hotel:
Benefits of Room Service:
Offers privacy and convenience to customers: while welcoming international travellers, in-room service can allow the hotel to offer F&B services for late check-in travellers. Also valuable for hotels in areas with limited dining options.
Personalizing tool: provide customers with a sense of uniqueness as they can enjoy a one-to-one service.
 Improve guest satisfaction: if meeting guest's expectations and the hotel's level of service.
Promote your restaurant food: room service can whether propose the same food to your restaurant or propose a unique menu.
Strong asset to be recognized full-service hotel: the term full service describes a hotel offering a variety of different services such as F&B ( bar, Breakfast, lunch, diner), Spa, laundry, shuttle service, meetings rooms and room service.
Promote safety: in the post-Covid-19 era and with the social distancing restrictions, in-room dining was largely promoted as a solution for travellers and hoteliers, and even compulsory for hotel quarantined travellers.
Online content generator: can be used as online content on a hotel's webpage or to generate customers' reviews.
CRM tool: allow interacting with customers whether while taking the order, delivering the order or at the check–out, and therefore to improve customer's experience.
Downsides of Room Service
 High operating expenses: room service requires qualified staff, training, in-room amenities, heat hold materials.
Reputation damages: If not managed properly, poor room service quality can strongly damage the hotel's reputation and guest loyalty.
Operating Challenges: Complicated to operate due to the distance in-between the rooms and the kitchen, as well as to deliver a qualitative service with a limited contact period in between the waiter and the customers as the order is mainly processed by phone.
Lower food quality: the distance between the kitchen and delivery point increases the risk of serving food with a poor presentation, wrong temperature, and long waiting time.
Replaceable: This can easily turn customers away if there is a cheaper option in the hotel.
 Large target audience: The menu should be designed to satisfy a mass population and to have at the same time a limited number of items to optimize room service efficiency.
Not always profitable: Room service can become an amenity instead of a business if the level of demand does not allow to cover the operating costs.
Room Service Optimization Trends
To better answer today's challenges and new customer's purchasing behaviours, hoteliers reinvented their traditional room service operating model. Here are few examples of how in-room dining can become attractive again for both customers and businesses:
Digital room service
Technology has come a long way to support hotels in their development to meet the convenience and efficiency expectations of customers. As human interaction is limited while delivering room service, the guest experience's satisfaction is likely to be subject to the service convenience, including delivery time and food quality. Indeed, research from ISeatz found that 68% of people ordering room service are doing it for convenience (Hospitality Technology, 2020). Hotels could therefore make their room services even more convenient for travellers by using mobile applications. During the lockdown, the number of orders placed online via third-party vendors such as Just Eat or restaurant apps grew from 11% in February 2020 to 46% in April (Wi-q, 2020). Similarly, hotels such as The Del Lago Resort & Casino saw an increase in room service requests since it combined the use of bedside tablets and mobile applications. Also, the Chedi Lustica Bay hotel affirms having increased its value per order since having implemented the RoomOrders' customized website (Hospitality Technology, 2020). RoomOrders helps to make the room service menu more visual and to automate cross-selling and up-selling. Also, it allows customers to track their orders and hoteliers to collect precious data.
Ghost kitchen for hotels
The pandemic accelerated the growth of this new F&B operating model. Ghosts Kitchens are food preparation operators for online delivery purposes only, with therefore no waiters or restaurants to operate. By having no physical premises and no overheads, ghost's kitchens succeed in generating higher profit margins and providing flexibility and solutions to the new society's challenges. According to Deloitte, since Covid-19, delivery and takeout orders have steadily increased up to 14%, to 68% and 52%, and nearly a quarter of consumers says their more frequent use of takeout and delivery will be permanent (Deloitte., 2020). As people's eating habits changed and businesses faced an unprecedented economic situation, hotels and food operators decided to collaborate. For example, the hospitality technology company Butler offers in-room dining service delivery to hotels, thus allowing hotels to cut their costs of running the operations, but still offering in-room services to its customers. By working out of a large hub kitchen, Butler can provide a sizable and qualitative menu to thousands of hotel's rooms.
Room service & Go
While the waiting time is among the most recurrent complaints registered from people ordering in-room dining, the Grab & Go operating model is offering the opportunity to customers to collect their food, and therefore to eliminate waiting time. According to a survey from Culinary Visions, 62% of interviewed travellers would purchase fresh grab-and-go meals from the hotel marketplace (Hospitality Technology, 2019). While convenience is important, food quality and hotel service culture remain relevant factors to guest's satisfaction. That is why 'artisanal on the Go' is promising a bright future as it takes into consideration customers healthy and responsible purchasing behaviours. Once again, technologies can help hoteliers to provide contactless services and boost travellers confidence. That is why Marriott recently launched its first contactless arrival kiosk and Grab & Go marketplace concept in two of its Fairfield Hotels. Customers are offered snacks, beverages, and complimentary daily breakfast that they can choose to eat in the lobby, in their room or on the go. Grab & Go particularly fit business and convention hotel that focus less on luxury but on lifestyle experiences.
Conclusion
To conclude, even though professionals of the industry were already seeing a decline in room service revenue before the pandemic, this one was a real trigger as hoteliers had no choice but to act. Room services may evolve based on the new customer's purchasing behaviours, but it's here to stay. The challenge is therefore for hoteliers to understand their new target market expectations and embrace technologies to rethink their in-room dining offers accordingly.
References
Deloitte. (2020, 10 26). The Restaurant of the Future Arrives Ahead of Schedule.
Hospitality Technology. (2019, 01 29). Hotel Eats: 62% of Consumers Say They Would Purchase Fresh Grab-And-Go Meals from a Hotel Marketplace.
Hospitality Technology. (2020, 12 31). Using Tech to Transform Hotel Room Service.
Suitepad. (2018). Boost Room Service Sales at Your Hotel. Suitepad.
Wi-q. (20207, 09 7). The Benefits of Mobile Ordering for In-Room Dining.
Next Steps
If you are looking for help to optimize your food and beverage revenue or if you would like help with any aspects of your hotel revenue management and hotel technology, please don't hesitate to contact us. Visit the Contact page to get in touch now